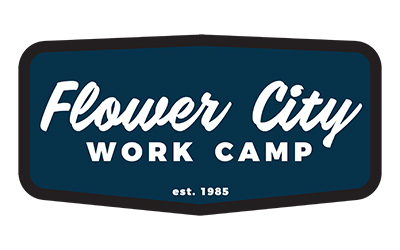 Flower City Work Camp was founded in 1985 as an alternative to youth groups going out of state (or out of the country) to conduct mission trips.  Instead, students are mobilized into service into the "mission field" of their very own communities.  Living in host churches over Spring Break, students from 7th-12th grades serve on:
Worksite Teams – performing home repairs, light construction, renovation, painting and yardwork.
Sidewalk Clubs – reaching out to neighborhood kids through music, drama, crafts and sports.
Basketball and Soccer Camps – teaching about teamwork and competing in tournament-style play.
Agency Support Teams – conducting service projects for other local area non-profits.
In the evening students return to a home base church where they get cleaned up, share dinner together, worship and study the Word of God.
Adult Volunteer leaders supervise each team, teaching skills, ensuring safety and imparting their wisdom along the way, or act as "Gofers" and Roving Experts in support of the Worksite Teams.  Other adult volunteers staff the kitchen operations preparing breakfast and dinners served onsite at each host church, serve as overnight leaders in the bunk rooms, serve on the security team, staff our 24-hour nurses station, perform worship and audio/visual support, pray over the week and operate the trading post (snack and merchandise shops).
In a typical year, FCWC students and volunteers can complete as many as 30,000 hours of service in the span of one week.  As the saying goes, the only bad part of Flower City Work Camp is having to go home.